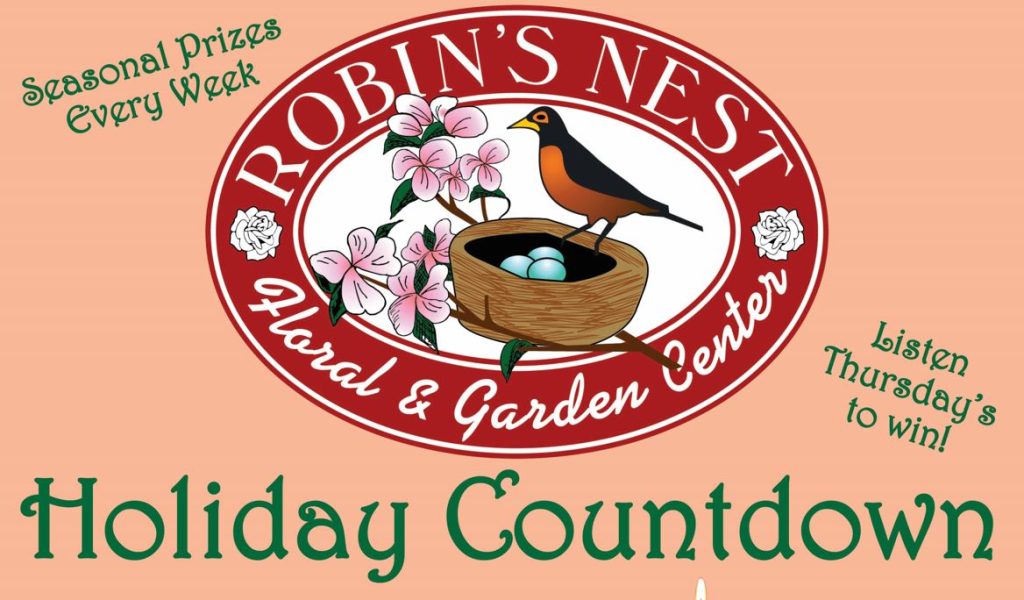 Listen Thursday mornings for chances to win great holiday-themed merchandise from Robin's Nest Floral & Garden Center in Easton!
Listen to 94.3 WINX-FM at 7:20am and 96.7 WCEI at 7:40am (Thursdays) for a chance to win a weekly prize through the end of the year!
WCEI studio: 410-822-9234
WINX studio: 410-770-9430
Prizes to include (subject to change):
Oct 13 – Decorated Fall Mum
Oct 20 – Halloween Metal Outdoor Decor
Oct 27- Halloween Arrangement
Nov 3 – Bird Seeder + Feeder
Nov 10 – Holiday Flag & Pole
Nov 17 – Thanksgiving Centerpiece
Nov 25 (Friday) – Holiday Decorating Gift Basket
Dec 1 – Christmas Wreath
Dec 8 – Holiday Poinsettia
Dec 15- Christmas Centerpiece
Dec 22 – $100 Robin's Nest Gift Card
Dec 29 – New Year's Eve Bouquet
Good Luck, Happy Holidays, and thanks for listening, from Ken Morgan and everyone at "The Nest," as well as all of us here at WCEI & WINX!
*Please pick up within 7 days of winning as this is fresh merchandise. General & Morning Show Contest Rules apply. Read them here.
Click HERE to read Ken Morgan's monthly gardening tips.